What is starcraft?
The Best RTS in the world. Period. However, games like Counter-Strike rank over it, because for one thing, Starcraft games are to long.

Koreans are the best at StarCraft. Yes, it's proven. Korean holds an annual StarCraft tournament, and has T.V. channels devoted to StarCraft. O_o.
A: Hey, do you wanna play StarCraft?
B: HELL NO!!!!!!!!!!
A: Why?
B: 'Cause your Korean! Everyone knows Koreans own everyone in StarCraft!!
---
starcraft - meme gif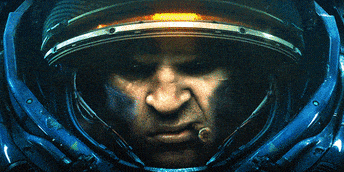 ---
starcraft - video
---
Starcraft - what is it?
An incredible real time strategy we Americans made for fun,

although the Koreans took it, and made it their lifestyle, culture, national sport, etc. etc., if a baby born in Korea is unable to defeat the computer at birth, it is dubbed ill and is left for the dead at the local hospis

Any local korean child is most likely able to play starcraft or is at least decent at it (this shows they are american born)Not all Koreans are like this though, some are normal
popular kid enters "gang" of koreans: ehy guys what are you playing?

Koreans: snort snort starcraft hehe lolz

popular kid: o really? nice my uncle works at blizzard he tells me about it... lemme try

*plays*

popular kid: aw dammit the computer beat me! this is hard

Koreans: LOLZ LMAO KGMAOGJASKD JKGSHKGIAS BKJDSDHSFNB GHJDMNHJDM HARHARHAHRAHHR U SUCK L=HAHAHKASGSAGL AJ65479782R8Y IWHRESGB JS WHAT A LOSER

popular kid: wait wtf? cmon it's just a game... ill get better at it, it's pretty fun

Koreans: HARHAHRAHRHA SHUT UP U SUCK

popular kid *getting pissed*: hey why don't you guys shut up, your the losers

Koreans: DHEAsegf fhjsafdsgeasj fvsgjaf jH FDSAGF HSDGAHF DSGF SHBJNAH UR DA LOZAH GAGAGAGAGAGAGAGHJGNFHVJRNFHVGFJRNHGJFRNHVJN

popular kid: *gives signal*

*jocks comes in with baseball bats, cleats, lacrosse sticks, and bb guns*

Koreans: HARAHRAHRHAR ARE THESE UR LOSWER FRIENDSM BFGHESDHARSKF HB

*bang smack slash rack brack*
---
What does "starcraft" mean?
A computer game you play before you die.
I played starcraft to much and I died but my account name "nigball" has a ratio of 100000000/0.
---
Starcraft - what does it mean?
A time of day. Can be anywhere between 7 PM and 3 AM.
Cody: "Say, Dan, will you be online at say.... starcraft?"
---
Starcraft - meaning
One of the greatest RTS (real time strategy) games of all time. It was produced by Blizzard Entertainment in 1998, and has remained popular with over 30 million copies sold.

In the game 3 races, Zerg, Protoss, and Terran (human) face off in an intergalactic free for all. The game was hailed as on of the greatest with regards to balance between the warring factions. One of the greatest players of all time is Terran, whereas beginning players enjoy Protoss and Zerg. Moderate players can usually play as any of the races and it can be anyones game.

South Korea loves Starcraft. They have competitions, where as many as 14 kids from each of the 6 major teams compete in front of a stadium of people. The best player in the world can make upwards of 200,000 dollars. The training players are lucky to make 600/month.

On a personal note, one of the greatest games of all time. Starcraft 2 will be coming out soon, hopefully they managed to do everything Starcraft did, but even better.
Dude1: Starcraft is Awesome!

Dude2: No man, Age of Empires

Dude3, Dude4, Dude5: Dude2, your either hilarious, or stupid.... and definately hilariously stupid.
---
Starcraft - definition
best real-time strategy in the world from Blizzard company. Three unique races which grant us fun for a long time. Played as a sport in Korea every year best players challenge on WCG Korea to show their best.
-do you play any strategy?
-Yep, the best one, the only one, STARCRAFT.
---
Starcraft - slang
A video game that is basically South Korea's national sport
Guy: what sports do you like?

korean guy: Starcraft
---
Starcraft
an outstandingly balanced and skilful real time strategy game. it is based on fast gameplay and the ability to mobilise forces quickly. it appears to have become the natioanl sport of much of South Korea, and twelve year old Korean kids seem to dominate any game they are in.
Ha, Ha white boy, i just destroyed you in Starcraft, Korea is the best!!!!!
---
Starcraft
The national sport for South Korea.
Mom: Come out for your dinner!
Child: (Slams door and continues playing starcraft)
---
Starcraft
A game that is no longer sold because everyone has it.
Soon will be an Olympic sport.
---