What is Baddest?
ADDISON RAEEEEEE
addison rae.... lil shawty the baddest.
---
Baddest - meme gif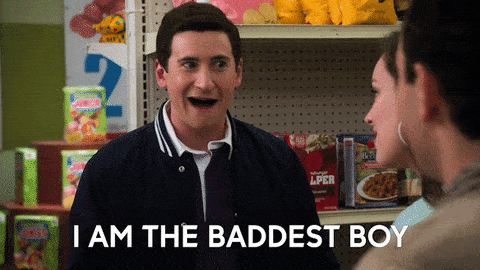 ---
Baddest - video
---
Baddest - what is it?
When just a 'badass' isn't enough. Applicable for anything or anyone
Bill: Yo! I've been to this pub close by. It's so badass.
Phil: Yeah, I've been there too. It's baddest of the asses bro!!
---
What does "Baddest" mean?
she got her own money house clothes shoes etc.

she bad - SHE LOOK GOOD

Girl-Dang she the baddest female I ever seen
Girl-Dang she the baddest female I ever seen
---
Baddest - what does it mean?
a sexy original female who can have any man or object she desires who other women hate on cuz she "got it like that" she has a nice body, a cute face, with intelligence who knows how to get that money without being a gold digger
Like Ms Trina said I'm tha baddest bitch
---
Baddest - meaning
The BADDEST PERRA is Louie Castro, he is the baddest bitch you'll ever know, he is super funny n always serving looks he is a beauty influencer and a youtuber and his viewers are known as THE BADDEST PERRAS, oh and bitch guess what.... he just STOLE YOUR MANZ sssttupida😆❤
Me: Louie you are the baddest perra 😘
Louie: sssttupida tell me something i dont know ❤
---
Baddest - definition
Wrong slang to say "the worst".
You be the baddest here!
---
Baddest - slang
urban synonym for 'the worst'; alternatively it may mean the best.
1. da baddest book-keeper
---
Baddest
Supreme in status or standing. The very best at something. The Ultimate Champion or Warrior. Ultimate Title or Crown. The Highest Honor. The Greatest.
The Champion of the World is the baddest dude out there. The baddest dude is second to none.
---
Baddest
A woman who is in control of herself and her sexuality or a sexually domineering woman.

A woman who is proficient at sensual and sexual acts.
Watch out for her, she is a baddest.
---
Baddest
Toughest, coolest.

Always used complimentary, unless used by someone who has poor grammar and does not know that the superlative form of "bad" is "worst".

Ironically, "baddest" and "worst" are complete opposites, despite the fact that at first glance, they appear to be synonyms.
Don't mess with Harold, he's the baddest one here!
---